Experience the Therapeutic Power of InMotion® Robots at AOTA INSPIRE 2022!
American Occupational Therapy Association 2022 Annual Conference & Expo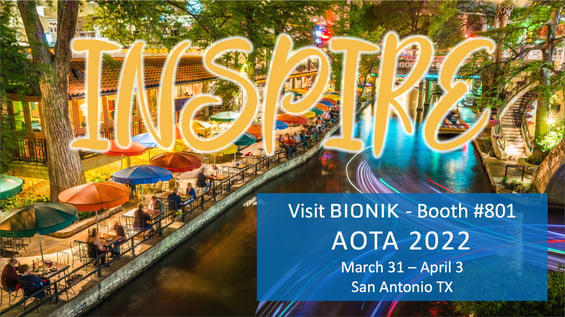 Learn how InMotion Therapy helps make the most of session time with Patients suffering from Stroke Impairments
The InMotion ARM provides 10 times the number of movements as usual care, allowing the therapist to easily and quickly advance the patient to more functional therapy.
Some InMotion® Therapy Benefits
Reduction of: Pain, S

ubluxation and/or Tone

Increased Passive and Active Range of Motion (PROM and AROM)

Increased muscle strength

Improved attention to the affected lim
Come visit BIONIK at booth #801 on March 31 - April 3 and see first-hand how InMotion technology can help your patients experience greater hope and achieve a more functional reach and grasp.
The BIONIK team will be there with two InMotion Robots, giving demos to individuals and groups. Sit down and experience first-hand what a patient feels when the robot helps them move - only when they need it.
Ask questions of Dr. Sherri Wallis, our clinical expert on robotic rehabilitation, about treating impairments from Stroke, Spinal Cord Injury, Acquired Brain Injury and other neurological conditions. InMotion Robots can also be used for treating cognitive impairments, balance and trunk stability and other conditions.
We're looking forward to seeing you in San Antonio!
Your BIONIK team